miércoles, 19 de febrero de 2020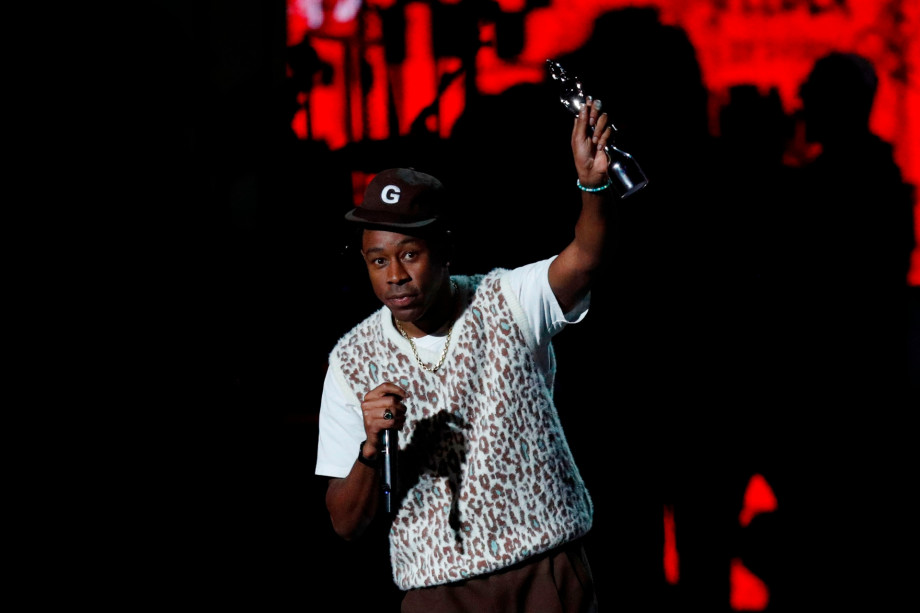 Casi cinco años después de verse obligado a cancelar sus fechas de gira por el Reino Unido, Tyler, The Creator ganó el Best International Male en el BRIT Awards 2020 el martes. Durante su discurso, Tyler demostró que tiene una larga memoria al mencionar a la ex primera ministra del Reino Unido, Theresa May.
"Quiero dar un agradecimiento especial a alguien a quien aprecio mucho, que llegó a donde no podía venir a este país hace cinco años", dijo. "Sé que está en casa enojada. Gracias Theresa May.
En 2015, el rapero fue prohibido durante tres o cinco años por May, quien era secretaria de hogar en ese momento, por las letras abrasivas de su música. "Venir al Reino Unido es un privilegio, y esperamos que quienes vienen aquí respeten nuestros valores compartidos", dijo el Ministerio del Interior en ese momento.
Según el gerente de Tyler, Christian Clancy, una carta del Ministerio del Interior alegaba que la música de Tyler "alienta la violencia y la intolerancia a la homosexualidad" y "fomenta el odio con opiniones que buscan provocar a otros a actos terroristas". Pero eso fue entonces. Tyler es una vez más el brindis del Reino Unido, y así es como la gente reaccionó.
— Indigo (@IndigoColumn) February 18, 2020
— pej (@___pej) February 18, 2020
tyler calling out theresa may for him being banned from the UK is the greatest brit award moment of all time

— josh (@joshminterr) February 18, 2020
One day I wish to have the level of sass as Tyler dedicating his brit award to Theresa May for banning him from the country.

The love I have for that man 😌💙

— Craig // Parasite BP winner (@_whtvrfrvr_) February 18, 2020
Especial Semanal Review
En este especial semanal se evalúa los lanzamientos correspondientes hasta la fecha '16/06/2021' The Best to the Best Tyler, the Cre...
Translate
Popular Posts
Con solo unos días para el lanzamiento de su próximo álbum, Tyler, The Creator ha compartido un video llamado "Wusyaname". La imag...

Brandi Carlile ha anunciado su primer álbum desde el celebrado By the Way, I Forgive You de 2018. El nuevo disco, titulado In These Silent...

En este especial semanal se evalúa los lanzamientos correspondientes hasta la fecha '09/06/2021'    The Best to the Best Nothi...

Kanye West celebró una fiesta para escuchar su nuevo álbum Donda el jueves por la noche en el estadio Mercedes-Benz de Atlanta. Ahora, com...

  Lil Nas X ha compartido el video musical de su nueva canción, "Industry Baby", y la imagen comienza donde lo dejó el avance: des...
TWITTER