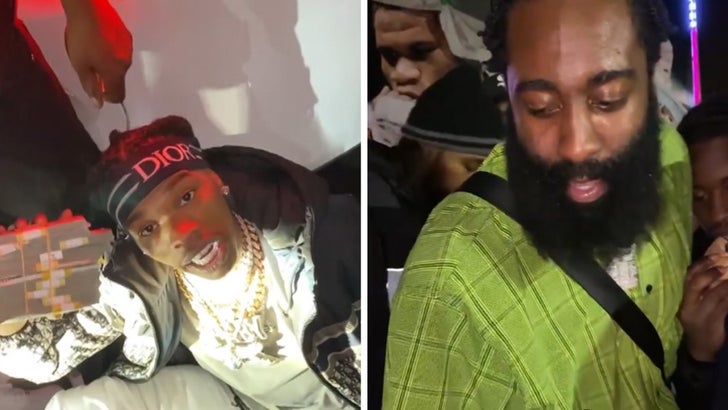 El año de Lil Baby ha estado lleno de placas de oro y platino, y su cumpleaños esta semana estuvo inundado de diamantes. Baby cumplió 26 años el jueves (3 de diciembre) y fue celebrado de manera monumental.
El miércoles (2 de diciembre), el artista de Quality Control Records tuvo una celebración de bolos en su ciudad natal de Atlanta y estuvo acompañado por algunos de sus compañeros creadores de éxitos, como el líder de Young Stoner Life Records, Young Thug y la firma Gunna. En ese evento en particular, Lil Baby abrió un regalo de su colaborador de "We Paid" y "Grace" 42 Dugg, quien gastó una bag en un reloj Audemars Piguet iced-out para el gran día de su jefe de sello.
El artista de "The Bigger Picture", cuyo álbum My Turn fue dos veces platino en 2020, también recibió un anillo de diamantes en los nudillos que deletrea el apodo de su familia "Wham", que le fue regalado por sus hijos y su novia, Jayda.
Al día siguiente, el 3 de diciembre, los diamantes bailaban de pared a pared en el evento privado Ice Ball de Lil Baby. La función contó con la empresa de joyería Ice Box, con sede en Atlanta, que instaló vitrinas de joyería dentro de la fiesta de cumpleaños. Esto fue solo la punta del iceberg del dinero, ¿entiendes?
We built an Icebox store at @lilbaby4PF birthday party! 🥶💎🎉 pic.twitter.com/00FSxY6q4V

— ICEBOX - Shop icebox.com! (@icebox) December 4, 2020
Lil Baby really brought the jewelry store to his birthday party 😭🥶 pic.twitter.com/MmJ3uhgeSj

— Hot Freestyle (@HotFreestyle) December 4, 2020
Echa un vistazo al resto de los obsequios que se le dieron a Lil Baby en su cumpleaños repleto de estrellas y averigua cuánto cuestan a continuación.
Bolso de Prada lleno de $ 100,000, reloj Richard Mille y Honey Buns
Regalado a Lil Baby por James Harden
Bolsa de lona Prada para hombre: oscila entre $ 1,900 y $ 2,050 + $ 100,000 de regalo en efectivo
Reloj Richard Mille - $ 250,000
Alrededor de 50 Honey Buns: alrededor de $ 25.00
Costo aproximado: $ 352,025
James Harden gifts Lil Baby with a Prada bag, $100,000 cash & a $200,000 Richard Mille watch for his 26th birthday pic.twitter.com/juHJjm0sCZ

— Daily Loud (@DailyLoud) December 4, 2020
Reloj Richard Mille
Regalo a Lil Baby por su novia Jayda Cheaves
Reloj Richard Mille - $ 200,000
Costo total: $ 200,000
Jayda went crazy for Lil baby bday 1 of 12 Richard Mille's in the world 🔥🔥 pic.twitter.com/Q3dz9JDmhx

— B (@BurnerP28817150) December 4, 2020
Anillo de diamantes "Wham"
Regalado a Lil Baby por Jason y Loyal (sus hijos)
Anillo de diamantes "Wham" en los nudillos: $ 30,000
Costo total: $ 30,000
Lil Baby got some gifts from his kids on his birthday pic.twitter.com/35a8djquXM

— XXL Magazine (@XXL) December 4, 2020
Audemars Piguet de oro rosa
Regalado a Lil Baby por 42 Dugg
Rose Gold Audemars Piguet: oscila entre $ 50,000 - $ 150,000
Costo total: $ 92,000
Lil Baby received a rose gold Audemars Piguet from 42 Dugg for his 26th birthday 🎁 pic.twitter.com/Yoxeddg99E

— Rap All-Stars 🏆 (@RapAllStars) December 3, 2020
Bentley Continental GT
Regalado a Lil Baby por Pierre "P" Thomas
Bentley Continental GT 2021: oscila entre $ 202,500 - $ 222,700
Costo aproximado: alrededor de $ 210,000
Anteojos con incrustaciones de diamantes
Regalado a Lil Baby por 21 Savage
Lentes con montura de diamante Cartier x Ice Box - $ 18,500
Costo total: $ 18,500