domingo, 7 de junio de 2020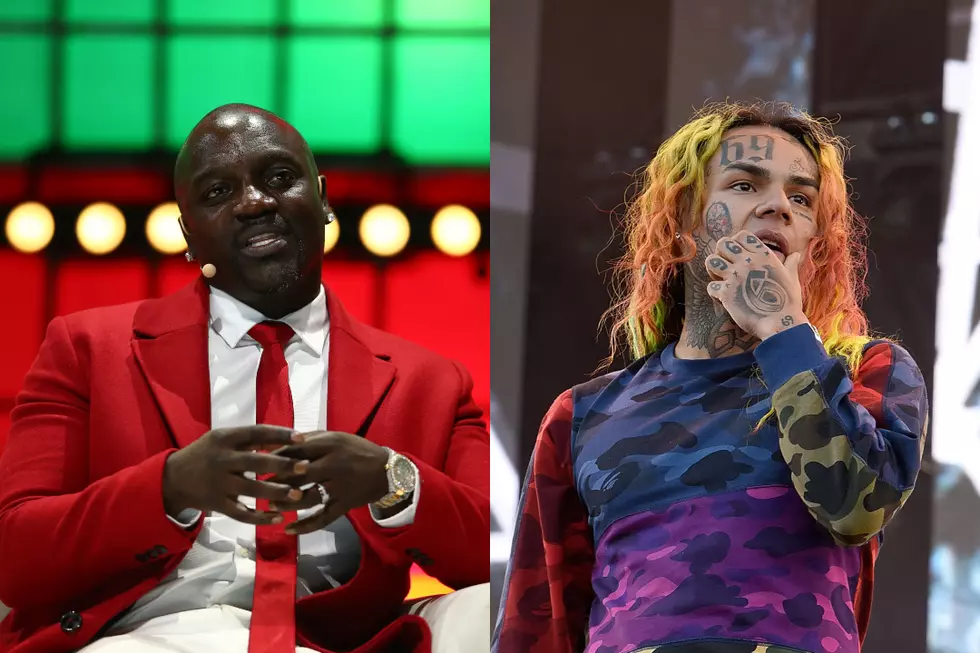 6ix9ine está trabajando en su próximo álbum, y ha reclutado a Akon para que lo ayude en el proceso.
El rapero de cabello arcoiris de 24 años, a quien recientemente se le concedió una liberación anticipada de la prisión en medio de la pandemia de coronavirus, acudió a las redes sociales el domingo (7 de junio) para compartir un clip de él mismo rapeando nuevas letras sobre el beat de la canción de Akon en 2004 "Locked Up".
"LOCKED UP PARTE 2 ESTOY EN MODO ÁLBUM", 6ix9ine subtituló el clip, que muestra a Akon bailando a su lado.
Akon compartió el mismo video en su página de Instagram, escribiendo: "Estar encerrado realmente puede cambiar tu perspectiva en la vida. Pregúntale a @ 6ix9ine #lockedup próximamente!"
A pesar de todo la colaboración recibió una fuerte critica en twitter por la gente que considera que Akon no deberia rebajarse a colaborar con 6ix9ine, incluso Tory Lanez expresa su desacuerdo de porque no trabajo con él en aquella canción.
Akon lost all my respect . I felt like he been looking down on Black Americans and him fucking with the enemy of the culture shows it 🤡

— Ice Billion Berg (@IceBerg305) June 7, 2020
Akon...Black man, what is you doing...? You disgraced all of Senegal for a Mexican in a wig to call you a nigga to your face?? 2020 is showing its whole ass dawg 😩.

pic.twitter.com/vWoIIdaTDO

— Kenni (@KidKenni) June 7, 2020
#skoetificationgang

✅‼️

#akon

👀🗣GET OVER HERE 👈🏾. How you go from being locked up to locked in wit a snitch in a rainbow wig🤷🏾‍♂️🤦🏾‍♂️😩😆😂😭? All a da L's😆😂😂😭. Somebody followed the rainbow and it led str8 into to…

https://t.co/jlW8InJyar

— Boskoe100 (@boskoe100) June 7, 2020
Akon left Africa where he has his own city, just to come out retirement to remix Locked Up with 6ix9ine?!

pic.twitter.com/SPfH6Qh2VX

— James Andre Jefferson Jr. (@JamesJeffersonJ) June 7, 2020
— Shizuru✨ (@Yupthatsmehoe) June 7, 2020
— Ms Bunny (@Msbunny50) June 7, 2020
— Alan Green (@Green_Alan77) June 7, 2020
Especial Semanal Review
En este especial semanal se evalúa los lanzamientos correspondientes hasta la fecha 24/05/2021. Mira los anteriores especiales semanales aqu...

Popular Posts
Un panel de tres miembros de la corte de apelaciones de Jamaica confirmó la condena por asesinato del artista de grabación de reggae dance...

Solange y Standing on the Corner se han unido una vez más. Passage es un nuevo cortometraje creado por la Agencia Saint Heron de Solange pa...

El líder de Daughters, Alexis Marshall, ha anunciado su álbum debut en solitario. Se llama CASA DE LULL. HOUSE OF WHEN , y llega el 23 de ju...

El Festival de Música y Arte de Coachella Valley regresa el próximo año para su primera edición desde 2019. El festival se llevará a cabo lo...

Taylor Swift aparecerá en la próxima película del director David O. Russell (el director de Silver Linings Playbook y American Hustle ), seg...

Perfume Genius vuelve a la carretera. Mike Hadreas realizará un espectáculo en la Henry Miller Memorial Library en Big Sur el 25 de junio an...

TWITTER