miércoles, 19 de febrero de 2020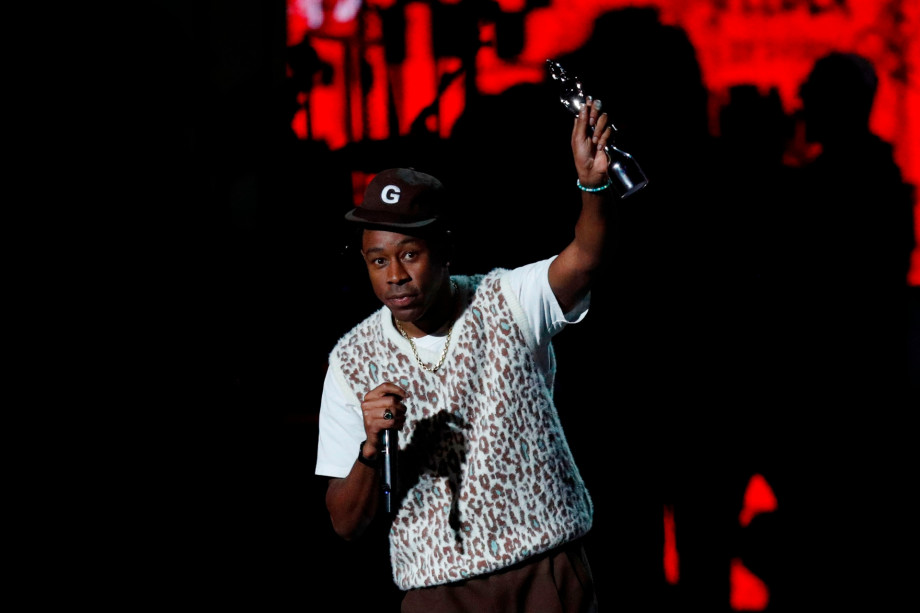 Casi cinco años después de verse obligado a cancelar sus fechas de gira por el Reino Unido, Tyler, The Creator ganó el Best International Male en el BRIT Awards 2020 el martes. Durante su discurso, Tyler demostró que tiene una larga memoria al mencionar a la ex primera ministra del Reino Unido, Theresa May.
"Quiero dar un agradecimiento especial a alguien a quien aprecio mucho, que llegó a donde no podía venir a este país hace cinco años", dijo. "Sé que está en casa enojada. Gracias Theresa May.
En 2015, el rapero fue prohibido durante tres o cinco años por May, quien era secretaria de hogar en ese momento, por las letras abrasivas de su música. "Venir al Reino Unido es un privilegio, y esperamos que quienes vienen aquí respeten nuestros valores compartidos", dijo el Ministerio del Interior en ese momento.
Según el gerente de Tyler, Christian Clancy, una carta del Ministerio del Interior alegaba que la música de Tyler "alienta la violencia y la intolerancia a la homosexualidad" y "fomenta el odio con opiniones que buscan provocar a otros a actos terroristas". Pero eso fue entonces. Tyler es una vez más el brindis del Reino Unido, y así es como la gente reaccionó.
— Indigo (@IndigoColumn) February 18, 2020
— pej (@___pej) February 18, 2020
tyler calling out theresa may for him being banned from the UK is the greatest brit award moment of all time

— josh (@joshminterr) February 18, 2020
One day I wish to have the level of sass as Tyler dedicating his brit award to Theresa May for banning him from the country.

The love I have for that man 😌💙

— Craig // Parasite BP winner (@_whtvrfrvr_) February 18, 2020
Especial Semanal Review
The Best to the Best Wale ft. Maxo Kream & Yella Beezy - Down South* Niki - Every Summertime Big Thief - Little Things/Sparrow* Sufjan S...
Translate
Popular Posts
Hatchie, el proyecto de grabación de la cantautora australiana Harriette Pilbeam, ha firmado con Secretly Canadian. Su sencillo debut para e...

  Jagged , un nuevo documental de Alison Klayman sobre Alanis Morissette, se estrena en el Festival Internacional de Cine de Toronto esta se...

Amaarae ha compartido una versión actualizada de "Sad Girlz Luv Money", tomada de su proyecto debut The Angel You Don't Know . La ...

Una colaboración entre Portishead y SoundCloud ha arrojado luz sobre un nuevo sistema de distribución de regalías que, según los defensores,...
TWITTER