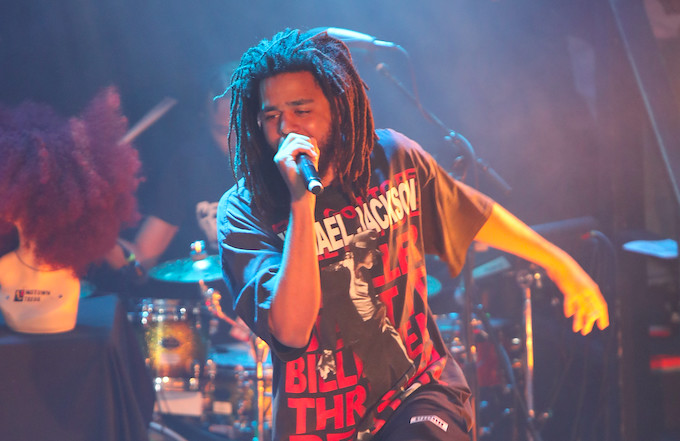 J. Cole tiene grandes planes para 2020.
Durante su actuación del viernes en el festival Day N Vegas, el rapero de Dreamville presentó un anuncio de campaña satírico que provocó su próximo sexto álbum de estudio muy esperado. El video comenzó con imágenes de policías, manifestantes y legisladores, antes de recortar clips y fotos de Cole superpuestas con una bandera estadounidense ondeando.
"Parece que todo está jodido. El país necesita un héroe al que recurrir en estos tiempos turbulentos. Jermaine Cole es ese héroe", dice el narrador. "Es un hombre cuya humildad no tiene límites. Un hombre cuya pluma es tan potente, cada palabra de sus versos supuestamente cuesta $ 2,000. Necesitamos a alguien con grandes ideas y soluciones audaces. Un experto en diplomacia. Un candidato que pueda sanar el inter guerra generacional ... Solo hay una respuesta, un verdadero unificador para sanar al país. Haz que se escuche tu voz. Vota por
The Fall Off
2020 ".
Se espera que The Fall Off sea la continuación del álbum
KOD
de Cole 2018, que concluye con la canción "1985 (Intro to 'The Fall Off')". El rapero ha estado provocando el proyecto por un minuto y aparentemente comenzó a trabajar en él mucho antes del lanzamiento de
KOD
. Durante una entrevista de 2018 con Angie Martínez, Cole reveló que sus canciones de 2016 "False Prophets" y "everybody dies" estaban destinadas a
The Fall Off
.
— 𝕞𝕖𝕝𝕝𝕤 ⓥ✨ (@_watermells) November 2, 2019
— J. Cole (@JColeNC) April 26, 2018