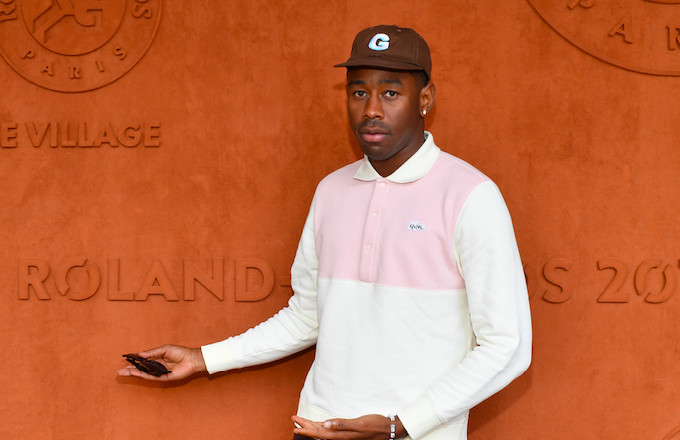 En 2018, Eminem se enfrentó a una ola de reacción violenta sobre la mordaz pista de
Kamikaze
"Fall". Aunque el single apuntaba a una serie de figuras del hip-hop, incluidos Joe Budden y Lord Jamar, el ataque de Em al Tyler,the Creator fue, con mucho, el más controvertido, ya que fue ampliamente criticado como homofóbico:
"Tyler create nothin', I see why you called yourself a f----t, bitch,",
rapea.
"It's not just 'cause you lack attention, it's 'cause you worship D12's balls, you're sacrilegious."
Pero parece que Tyler no estaba demasiado preocupado por la letra, según su entrevista con
The Guardian
.
"¿Alguna vez me escuchaste decir públicamente algo sobre eso? Porque sabía cuál era la intención", explicó el artista de
Flower Boy.
"Él se sintió presionado porque la gente se ofendió por mí. No se ofenda por mí. Estábamos jugando Grand Theft Auto cuando escuchamos eso. Lo rebobinamos y dijimos: 'Oh'. Y luego seguimos jugando ".
Más tarde, Eminem expresó su pesar por la letra, diciendo que era una respuesta mal concebida a las críticas de Tyler a "Walk on Water".
"Cuando Tyler tuiteó el tema de 'Walk on Water', 'esta jodida canción es horrible'. Estaba como bien, 'necesito decir algo ahora' ", dijo Em a Sway en una entrevista de 2018. "Porque esto es jodidamente estúpido. No voy a dejar que todos solo ... no voy a ser el saco de boxeo de Estados Unidos".
Continuó: "Estaba enojado cuando dije la mierda sobre Tyler. [...] La palabra con la cual lo llamé ... esa canción fue una de las cosas en las que sentí que esto podría estar demasiado lejos. Porque en mi búsqueda por lastimarlo, me di cuenta de que estaba lastimando a muchas otras personas al decirlo ".
Antes de comenzar a hacer referencia a su propia atracción hacia el mismo sexo, Tyler también se enfrentó a acusaciones de homofobia. De hecho, su uso anterior de insultos gay fue citado como una de las razones de su prohibición del Reino Unido.
En 2015, la ex primera ministra Theresa May criticó la música de Tyler por alentar la "violencia e intolerancia a la homosexualidad". Debido a sus controvertidas letras, a Tyler se le prohibió ingresar al Reino Unido durante tres a cinco años.
"La gente conocía la intención", dijo a
The Guardian
sobre las críticas de May. ""That tree over there could be a faggot! ¿Quién no ha jugado a
Call Of Duty
en línea y escuchó a un niño de 11 años que te llamaba así porque lo mataste? ¿Sabías la intención detrás de eso y luego la gente estaba fingiendo, como si él fuera homofóbico? Eso me estaba cabreando. Es solo otra palabra ".
La prohibición del Reino Unido de Tyler ha sido levantada.
"Se ha ido, así que he vuelto", dijo Tyler sobre May. "Han pasado cuatro años desde que regresé. Desde que esta hermosa y perfecta piel negra fue permitida en el país ... La gente no se da cuenta de toda la estupidez que hicieron, nadie lo sabe, solo tres personas en su ciudad natal. Toda la estúpida mierda que hice, o dije, era pública ".
Puedes leer la entrevista completa de
The Guardian aquí
.