Si bien este año no ha sido muy competitivo en cuanto a lo que fue el 2018 , ya que si pudiéramos volver a l
o que fue el año pasado
a esta mitad de año tendríamos obras como las de Pusha T en
Daytona
, Saba con
Care For Me
, Janelle Monae con
Dirty Computer
, entre otros.
Sin embargo aunque los artistas más renombrado dieron su máximo ese año eso no deja de lado que otros nombres se pongan en el mapa y dejen su huella en lo que va hasta ahora del 2019,ya sea transmitiendo sus pesares emocionales, su libertad en el progreso del autoestima, o simplemente mostrar su arrogancia en el juego. Los proyectos que a continuación se presentaran están puestos según la capacidad que tuvo cada artista para transmitir su sentimiento al álbum mezclado con la producción correcta para llevarlo a cabo.
En este caso hemos mezclado ambos géneros del
Hip-Hop/R&B
en uno solo ya que la listas quedarían muy cortas si se separaran en dos diferentes y hay que considerar que algunos albumes aqui presente se clasificarian de las dos formas dada la variedad de producción que presenta.
Ademas cabe señalar que al final de la lista se agrego unas
Honorables Menciones
donde se señala posibles albumes que son dados a considerar a ponerla en la lista y que no son menospreciables en si.
También se añade a lo dicho que la lista esta sujeta a modificaciones a lo largo de lo que termina el año lo cuál estate pendiente para las nuevas actualizaciones que se vayan haciendo.
Echa un vistazo a la lista de los mejores albumes del 2019 hasta el momento a continuación:
1.Little Simz - GREY Area
El "área gris" en cuestión es su mitad de los años 20, a "lugar extraño" que está ansiosa por navegar a través y fuera, por el sonido. "Acabo de escribir el álbum desde un lugar de confusión", dijo a
Noisey
la rapera Simbi Ajikawo, quien dijo que la incertidumbre de una crisis de un cuarto de vida parece navegar por la niebla de la guerra. Una búsqueda similar de certeza corrió a través de su segundo álbum,
Stillness in Wonderland
, de 2017,
El álbum completo fue producido por el amigo de la infancia de Simz, Inflo. Usando más instrumentos en vivo en lugar de samples de guitarras, cuerdas, pianos y tambores, en su mayoría, nunca se acomodan en un solo espacio. No hay dos canciones en
GRAY Area
que suenen igual, incluso cuando son similares a los objetivos varían. "Soy JAY-Z en un mal día, Shakespeare en mis peores días", le responde con brusquedad a través del bajo y se pone "Offense".
2. Injury Reserve
El extraño trío de Injury Reserve de Phoenix parece más una selección aleatoria de tres clientes en una tienda que un grupo de rap. Su verdadera historia de origen no está tan lejos: el rapero Ritchie With a T se mudó a la ciudad con su madre para que ella pudiera lanzar una tienda de Vans allí, y allí fue donde conoció a Stepa J. Groggs, que era uno empleado. Su imaginativo productor de 23 años de edad, Parker Corey, un capitán del equipo de natación que solo se dedicaba a hacer batidos cuando una lesión le impedía competir, es tan verde que
My Beautiful Dark Twisted Fantasy
de Kanye West es el primer álbum de rap que escuchó en su totalidad. Sin una escena de rap en Phoenix, tocaron fiestas caseras con bandas de punk, y su álbum de debut es un intento de hacer algo singularmente moderno de toda esta incongruencia.
3. Freddie Gibbs & Madlib - Bandana
4. Quelle Chris - Guns
Cerca del final del nuevo álbum de Quelle Chris,
Guns
, el cantante y productor Bilal Salaam comenta algunos de los recientes tiroteos masivos en la historia de los Estados Unidos: Stoneman Douglas High School en Parkland, Florida, donde Nikolas Cruz disparó; Primera Iglesia Bautista en Sutherland Springs, Texas, donde Devin Patrick Kelley asesinó a 26 personas; y la carnicería en un festival de música country en Las Vegas, donde Stephen Paddock mató a 58 asistentes en el concierto. En un instante, todo antes del verso de Salaam, en un interludio llamado "Sunday Mass", se olvida brevemente ; todos los bucles de batería de baja fidelidad dan paso al momento más aleccionador del álbum.
En
Guns
, Chris no solo explora el uso de armas, sino que también examina cómo se armanizan las palabras, el miedo y el color de la piel, y cómo la comunidad de uno puede dictar su relación con las armas de fuego. Él hace esto poniéndose en sus zapatos, y en "Spray and Pray" y "Mind Ya Bidness", Chris se convierte en el tipo de calle con una cultura de armas en su sangre. En el primero, suena como un antillano de Crown Heights, Brooklyn; el último, un Crip o Piru de South Central, Los Angeles. Chris suena igual de natural aquí; a través de este álbum y otros, ha demostrado que no solo es un letrista experto, sino un productor experto que extrae de varias regiones y subgéneros para crear una estética universal sin ataduras a un lugar o categoría específica.
5.Tyler, The Creator - Igor
Los estados de ánimo de Tyler, The Creator, se han definido en gran medida por la ausencia, de su padre, de aclamación crítica, de amor. Respondió a lo que faltaba con antagonismo, álbum tras álbum, hasta 2017, cuando recordó su vida con una lente soleada y una punzada de nostalgia para ofrecer su mejor trabajo,
Flower Boy
. Ese álbum nominado al Grammy es sumamente agradable, el sonido de un iconoclasta sucumbiendo a su mejor juicio.
IGOR,
el sexto álbum del rapero de 28 años de edad, es Tyler finalmente satisfecho con toda esa agonía.
IGOR
suena como el trabajo de un perfeccionista que da forma a sus ideas más radicales. Tyler, quien orgullosamente produjo, escribió y organizó el álbum, está cantando más, pero no le preocupa que sus canciones tengan un arco de pop tradicional. Las canciones no se construyen a un crescendo, a menudo comienzan allí. La apertura "IGOR'S THEME" sirve menos como fuerza de guía y más como un motivo recurrente de fatalidad que se oculta en las sombras y asoma su cabeza en momentos seleccionados, como en "NEW MAGIC WAND", donde los sintetizadores espeluznantes estallan por debajo del proceso de pensamiento de Tyler. Encima de este miedo incipiente, Tyler pone en capas las teclas confitadas y las voces armonizadoras. El brillo es desafiante, ya que Tyler procesa la pérdida de alguien que ama.
IGOR
se convierte en un álbum de separación gracioso y generoso cuya narrativa se desarrolla más claramente más adelante en el registro.
6. MIKE - Tears of Joy

7. Dave - Psychodrama
Hace tres años, Dave comenzó a ganar reputación por sus videos de freestyle. El joven herrero, también conocido como Santan Dave, miraba fijamente a la cámara y transmitía feroces reflexiones sobre su tumultuosa vida, usándolas como una palanca lírica para abrir las puertas manteniendo a los londinenses sin voz en la oscuridad. En "Thiago Silva", demostró que podía mantenerse firme a un beat de grime, y los fanáticos pronto descubrieron que también tocaba el piano. Era difícil comprender que él era sólo un adolescente. Ahora Dave tiene 20 años, y su álbum debut,
Psychodrama
, es uno de los cuerpos más significativos de la música rap británica en una generación.
El
Psychodrama
es una forma de psicoterapia en la que los pacientes realizan juegos de rol de su pasado para curarse y darles sentido. Dave usa el término como un pegamento catártico para unir temas pesados, llevando a los oyentes a su sala de terapia mientras lidia con la injusticia social, las contradicciones de la industria y el dolor privado. El álbum comienza y termina con las canciones "Psycho" y "Drama", respectivamente, y este último incluye un diálogo conmovedor con su hermano mayor, quien está cumpliendo una sentencia de cadena perpetua en la cárcel.
8. Benny The Butcher - The Plugs I Met
9.Lizzo - Cuz I Love You
El momento preciso de la transformación de Lizzo ha sido visto casi 200,000 veces. En 2014, el mismo año en que lanzó su frenético debut de rap
Lizzobangers
, la rapera-cantante-flautista participó en una serie web llamada
The What´s Underneath Project
. En su episodio, Lizzo se sienta en un taburete frente a una pared de ladrillos y habla calurosamente sobre la evolución de su autoestima mientras se quita la ropa una pieza a la vez. Primero va una camisa a cuadros, luego un par de Jordans retro y un gorro, hasta que solo lleva un sujetador y bragas. El maquillaje en su mayoría se frotó y una pequeñita afro que formaba un halo alrededor de su cara, ella finalmente es completamente ella misma. Esta revelación literal, dijo ella, provocó una revelación inesperada que seguiría dando forma a su vida y su arte.
Esa experiencia la inspiró a escribir "My Skin", la revolucionaria balada de rap de su álbum de 2015
Big Grrrl Small World
. En un ensayo que acompaña, describió la canción como "una invocación de cuerpos: todas las formas, tamaños y tonos para unir su orgullo, y usar su piel como el regalo que es". Desde entonces, ella ha afilado esa sensibilidad, convirtiéndose una animadora incansable para ella y para millones de personas que nunca conocerá
. Cuz I Love You
, su primer largometraje en Atlantic, es una especie de tesis sobre la confianza internalizada y exteriorizada, tanto que la música puede sentirse como un medio para un fin mayor.
10. Slauson Malone -
A Quiet Farwell, 2016–2018
Marsalis, quien graba música con el nombre de Slauson Malone, estaba particularmente interesado en la personalización de los automóviles: el arte travieso de Los Angeles de sistemas de suspensión hidráulica y trabajos de pintura con aerógrafo que transforman los autos stock en espectáculos de bajo rendimiento. También le gustan las formas mutables de dubplates de reggae, soul covers y Legos. Su nuevo álbum
A Quiet Farwell, 2016–2018
reúne densamente sonidos de orígenes, fidelidades, temas y tonos disonantes en un collage finamente detallado, ocasionalmente empalmado con rap. Es mejor escucharlo en su totalidad. Daña los samples y voces, ahoga versos en la mezcla, privilegia la distorsión y llena el espacio con silbidos de cinta. Las letras aparecen y desaparecen bruscamente pero dejan una marca.
11. Slowthai - Nothing Great About Britain
El lanzamiento del álbum debut de slowthai, originalmente planeado para coincidir con la salida de Gran Bretaña de la Unión Europea, no fue exactamente como lo planeamos. Una historia familiar: la administración perezosa, el desastre de las relaciones públicas y el rechazo de la industria provocaron un replanteamiento del calendario de lanzamiento. Y como Brexit se retrasó, slowthai también dejó que el álbum respirara.
Tyron Frampton, un rapero de 24 años, utilizó sabiamente el par de meses adicionales, demostrando ser políticamente astuto en las entrevistas y colocando su dinero donde está su boca: en su reciente gira por la pequeña ciudad de Gran Bretaña, los boletos se vendieron por 99p, o alrededor de $ 1.30. En su astuta campaña de prensa, el rapero Bajan-británico se posicionó como el "Brexit Bandit", un renegado social que denunciaba la calamidad política y su papel como arma de distracción masiva. Gran Bretaña tiene una crisis de salud, una crisis de vivienda y una gran participación en la crisis climática, pero la crisis constitucional domina la alimentación. Con
Nothing Great About Britain
, trampolines lentos de la farsa del Brexit a los riffs sobre el nacionalismo y la pobreza, redistribuyendo la riqueza a través de la economía de atención.
12. Billy Woods & Kenny Segal - Hiding Places
Como rapero, Billy Woods escribe sobre todo: la agonía de la angustia romántica, el miedo a recauchutar el pasado, lo desagradable de hablar con los demás. En los primeros minutos de
Hiding Places
, su nuevo álbum con el productor de LA Kenny Segal, reflexiona sobre la permanencia financiera de una carrera de rap de tiempo completo.
Durante los últimos 20 años, Segal ha sido un elemento básico de un taller basado en L.A. llamado Project Blowed, hogar de la escena de hip-hop alternativa de la ciudad, que incluye artistas como Aceyalone, Busdriver e incluso la directora de cine Ava DuVernay en su órbita. Segal ha compilado una robusta colección de álbumes instrumentales, que incluye un conjunto reciente llamado
Happy little trees
, cuyo título está inspirado en el pintor Bob Ross. El trabajo en solitario de Segal es más brillante y más pastoral; para los lugares escondidos, oscurece el lienzo para combinarse con la mezcla de tristeza y humor de billy woods, dos armas para lamentar los días malos que una vez soportó.
13. Jamila Woods - Legacy Legacy!
Con
LEGACY! LEGACY !
, Jamila Woods toma con entusiasmo las riendas de pioneros como Nina Simone. En el debut de Woods en el 2016,
HEAVN
, su ingenio agudo fue, literalmente, un juego de niños, por ejemplo, la transposición del juego de aplausos "Miss Mary Mack" para las letras más crudas sobre la brutalidad policial en "VRY BLK". Esos núcleos ahora han madurado en su segundo álbum, uno que es más rico y completo en todos los aspectos. Evocador del histórico álbum de Mos Def,
Black on Both Sides
,
LEGACY! LEGACY!
se casa con el comentario político incisivo con una profunda introspección. El resultado es un álbum lleno de juegos de palabras, ira y humor irónico. Woods nos devuelve a una joven artista y mujer descarada, muy consciente de la reacción que podría enfrentar por su transparencia.Cada pista destaca a un legendario artista del color, que abarca disciplinas, géneros y décadas.
14. The Comet Is Coming - Trust in the Lifeforce of the Deep Mistery
15. Beyonce - Homecoming The Live Album
16. Maxo - Lil Big Man
17. Mereba - The Jungle Is The Only Way Out
18. Your Old Droog - It Wasn't Even Close
19. Blu & Oh No - A Long Red Hot Los Angeles Summer
20. Anderson .Paak - Ventura
21. Solange - When I Get Home
22. Malibu Ken - Malibu Ken
23. Swindle - No More Normal
24. Daniel Caesar - CASE STUDY 01
25. Flying Lotus - Flamagra
26. Denzel Curry - ZUU
27. Anonymuz - There is Not Threat
28. Jim Jones - El Capo
29. TOBi- Still
30. Conway - Everybody is F.O.O.D. 3
31. Smif N Wessun - The All
32. Rico Nasty & Kenny Beats - Anger Management
33. Choosey & Exile - Black Beans
Honorables Menciones
Anoyd & Statik Selektah - Yuck!
Georgia Anne Muldrow - VWETO II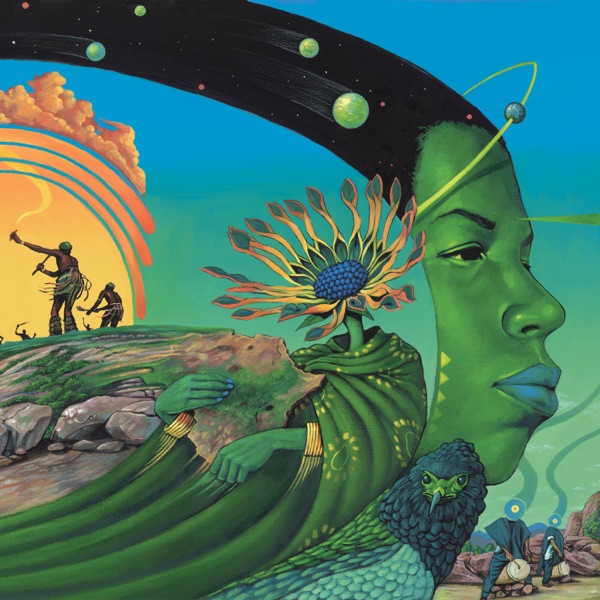 Eto & Superior - Long Story Short
Nolan the Ninja - Sportee
Diamond D - The Diam Piece 2
People Under The Stairs - Sincerely, The P
DaBaby - Baby On Baby
Megan Thee Stallion - Fever
Duckwrth - The Falling Man (EP)
Ari Lennox - Shea Butter Baby
Young Nudy & Pi'erre Bourne - Slimerre
Bun B & Statik Selektah - Trillstatik
Lucky Daye - Painted
Boogie - Everythings For Sale
Sean Price & Small Professor 86 Witness
Sneaks - Highway Hipnosis
Czarface & Ghostface Killah - Czarface Meets Ghosface
Eryn Allen Kane - a tree planted by water
YG - 4REAL 4REAL