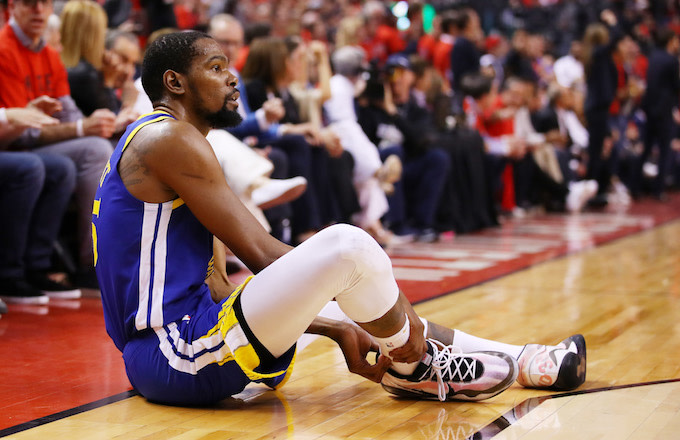 Kevin Durant sufrió una lesión de Aquiles durante el Juego 5 de las Finales de la NBA el lunes por la noche. Se someterá a una resonancia magnética el martes.
El gerente general de los Golden State Warriors, Bob Myers, habló con los periodistas sobre todo esto. "Es una lesión de Aquiles. No sé hasta qué punto. Mañana se realizará una resonancia magnética. Antes de regresar, pasó por 4 semanas con un equipo médico. Fue exhaustivo", dijo Myers, llorosa. "Fue autorizado para jugar esta noche. Esa fue una decisión de colaboración. No creo que haya nadie a quien culpar, pero entiendo en este mundo y si tienes que hacerlo, puedes culparme. Dirijo nuestro departamento de operaciones de básquetbol".
— SLAM (@SLAMonline) 11 de junio de 2019
Según Rachel Nichols, Steve Kerr dijo: "Los médicos nos dijeron que [a Durant] no le podía doler más al regresar, que había superado ese obstáculo". Ella agregó: "Se sienten responsables de esta situación".
Ramona Shelburne de ESPN informó el lunes por la noche que "los Warriors creen que la resonancia magnética de Kevin Durant el martes confirmará un tendón de Aquiles desgarrado".
The Warriors believe Kevin Durant's MRI on Tuesday will confirm a torn right Achilles' tendon, league sources tell me and

@wojespn

— Ramona Shelburne (@ramonashelburne) 11 de junio de 2019
— gifdsports (@gifdsports) 11 de junio de 2019
KD después de ser sacado de la cancha compartió una historia en IG donde escribie,"Me duele mucho el alma ahora. No puedo mentir, pero ver a mis hermanos obtener esta victoria fue como tomar un trago de tequila".
— Complex Sports (@ComplexSports) 11 de junio de 2019
Durant, quien anotó 11 puntos durante el juego y regresaba de un tendon derecho tenso, sufrió la lesión más reciente en el segundo trimestre. Fue la primera vez que Durant regresó en aproximadamente un mes. Muchas personas acudieron a las redes sociales para llamar a los fanáticos de Toronto que se burlaron de Durant después de que se cayó, en el cuál se puede ver al mismo jugador de los Raptors Kyle Lowry pedir que dejen de hacer eso, e incluso Drake se siente compadecido ante la lesión que lo llevo a los bastidores.
Los Warriors terminaron ganando el juego 106-105. El juego 6 se llevará a cabo el jueves 13 de junio en el Oracle Arena de Oakland.
Mira las reacciones de los jugadores y todo el suceso a continuación:
— ESPN (@espn) 11 de junio de 2019
— Farmer Jones (@thefarmerjones) 11 de junio de 2019
— Complex Sports (@ComplexSports) 11 de junio de 2019
They really cheering cause he's hurt... smh

— Saquon Barkley (@saquon) 11 de junio de 2019
Why are they cheering for his injury? Come on man

#Disguting

— Joel Embiid (@JoelEmbiid) 11 de junio de 2019
— Complex Sports (@ComplexSports) 11 de junio de 2019
DeMarcus Cousins on the people who questioned KD's heart: "Fuck them. Fuck them."

— Kerith Burke (@KerithBurke) 11 de junio de 2019