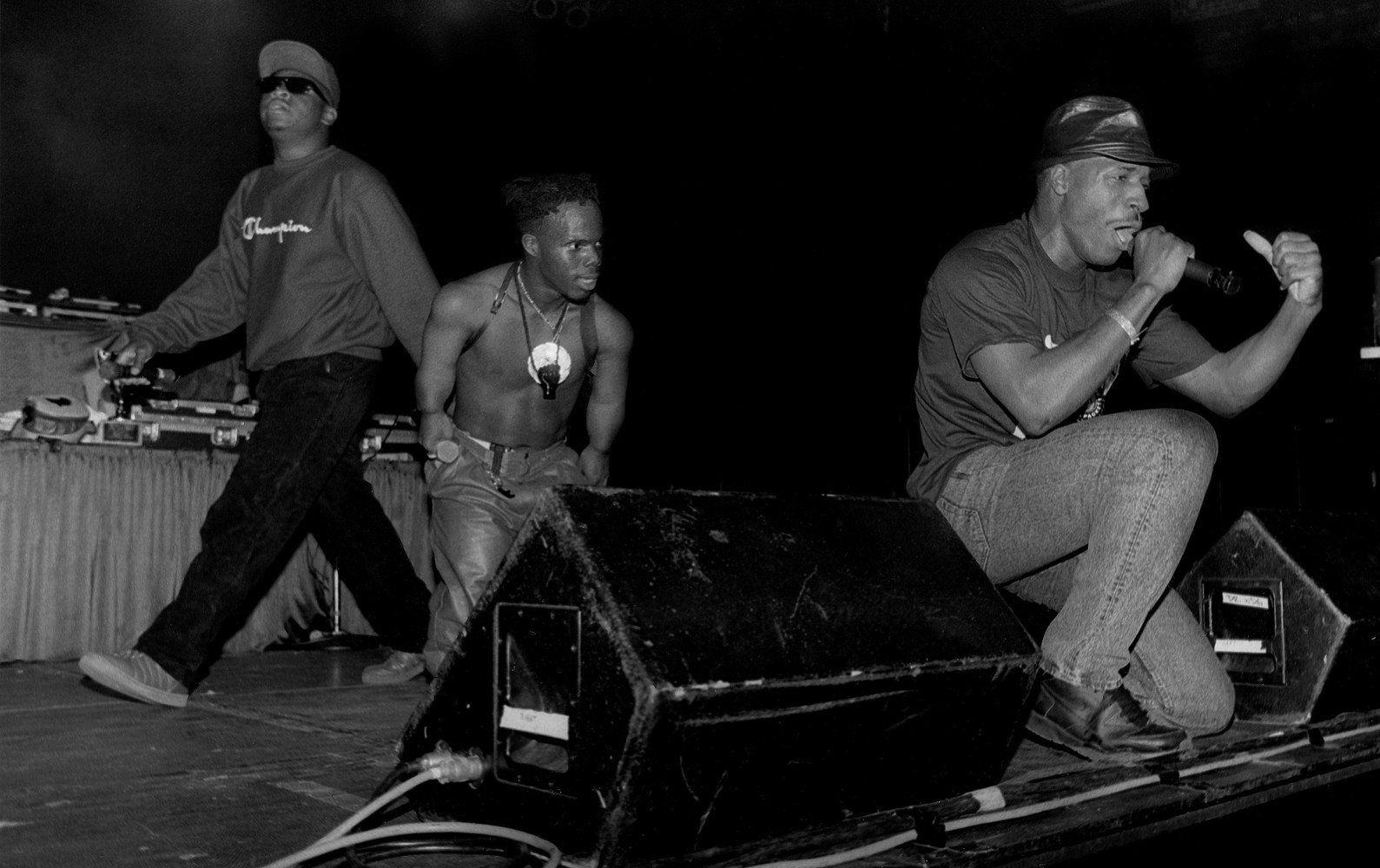 Al igual que algunas otras canciones de los últimos 40 años, "Mind Playing Tricks on Me" está solo en la historia del hip-hop. El single de la firma Geto Boys, al éxito de los top 40 de Hot 100 en una época en la que el gangsta rap prácticamente nunca se cruzó, sigue siendo un texto singular y frecuentemente referenciado en las escrituras de género.
El trío de Scarface, Willie D y Bushwick Bill se habían ganado su reputación como un incondicional y contencioso acto de hip-hop incondicional, tanto que cuando Bill recibió un disparo en el ojo durante una pelea con su novia, lo pusieron, aún vendado y en camilla de su hospital, al frente y en el centro en la portada de "We Can Not Be Stopped" de 1991. Pero aunque no considero que los "Tricks" con los ojos nublados sean un compromiso con la integridad del grupo, las letras son brutalmente honestas y viscerales, se combinan con una introspección que marcó una de las primeras etapas para el género. También está conectado por un sedoso loop de Isaac Hayes que podría haber aparecido en
The Chronic
de Dr. Dre un año más tarde, y que le da a la canción tanto accesibilidad como estabilidad estructural. La combinación nocturna de la canción de paranoia violenta y odio a su misma diarística, unida musicalmente a través del alma de los old school, ha demostrado ser impresionante: con pequeñas alternaciones, podría encajar fácilmente en los catálogos de 2Pac, Kanye West o incluso Juice WRLD.
Scarface, en última instancia, la estrella más grande del grupo, domina "Tricks", tanto como productor que como el escritor de tres de los cuatro versos. (La canción estaba destinada originalmente para su debut en solitario.) Sus contribuciones son icónicas desde el momento en que la cinta comienza a rodar, tanto su comienzo falso ("I sit alone in my four-cornered room ...") y su letra de apertura adecuada ( "At night I can not sleep, I toss and turn ...") están incrustados en el léxico del rap. Su voz atronadora marca el tono de la canción cuando habla sobre los temores de ambas amenazas ("I'm paranoid, sleepin 'with my finger on the trigger") e interna ("I often drift when I drive / Havin' fatal thoughts of suicide "). Sus dos versos sobre "Tricks" están divididos, y combinados en intensidad, por el cuento desgarrador de la "movie star" del integrante Willie D, socavado por las ansiedades sobre las malas acciones pasadas que casi llevan a la tragedia. Corta la canción después de esos tres versos, y sigue siendo un clásico.
Pero es el verso final, emitido por el difunto Bushwick Bill, quien murió a los 52 años durante el fin de semana, lo que hace que la canción sea indeleble. En parte porque "Tricks" se siente completa incluso sin él: tres versos, cada uno más potente y conmovedor que el anterior, todos marcados con el título brillante y atenuados por el hook de la guitarra de Isaac Hayes que no juzga, y parece que todo debería acabarse. Pero luego, la voz de Bill golpea como una aparición: "This year Halloween fell on a weekend/ Me and Geto Boys are trick-or-treatin'."
La línea es la curva perfecta para lanzarse después de tres versos confesionales: el bar de apertura elimina la perspectiva en primera persona por lo que se siente como la primera vez en toda la canción, sonando más como la narración de un trailer de película de terror que como un MC garabateando un bloc de notas. Y en marcado contraste con los barítonos en auge de Scarface y Willie, la voz de Bill es delgada y aguda, su entrega es plana y cortada. Suena, como que no debería estar allí, lo cual, para una canción, principalmente acerca de sentirse desgarbado en su propia historia, resulta ser la nota ideal para comenzar el verso final.
Y las palabras están perfectamente elegidas. Una canción menos vívida hubiera dado a la historia de Bill de Halloween una introducción explícita al escenario, el equivalente del hip-hop de "fue una noche oscura y tormentosa". Pero "Tricks" prepara el escenario de manera mucho más evocadora con tan pocas palabras. Como detalle lírico, "Este año, Halloween cayó en un fin de semana", le dice todo: eso va a tener lugar en Halloween, que sucedió no hace mucho tiempo, y que fue memorable para Bill y los Niños debido a las vacaciones no estan en una noche de escuela significaba que era probable que muchos niños estuvieran fuera de la escuela. La naturaleza portentosa de esa ominosa apertura es transmitida por la segunda mitad de la letra, que se queja "Me and Geto Boys are trick-or-treatin'": los tensos cambios hacia el presente, Bushwick Bill y sus amigos están justo en el centro de la travesura, y los "Tricks" del título de la canción ganan otra capa.
A partir de ahí, el verso de Bill cuenta la historia de los "niños que roban a los niños pequeños". (No está claro si los jugadores de la calle son simbólicamente secuestrados por dinero en efectivo o, literalmente, robar caramelos a los niños de la escuela; ambos parecen verosímiles.) El trío atrae la atención de la policía, y convierte su hostilidad en un lugar de "six or seven feet" policía, con Bill dándole un puñetazo sangriento. ("Drrrrroppin' them motherfuckin' B's on 'em" es quizás la letra/entrega más memorable en una canción llena de clics de una sola línea.) Pero en consonancia con el patrón establecido de narradores poco fiables de la canción, la memoria de Bill resulta para ser una fantasía, ya que su víctima, sus co-conspiradores e incluso el telón de fondo de las vacaciones desaparecen ("It wasn't even close to Halloween"). Se fue con las manos destrozadas, "bloody from punchin' on the concrete,", y todo lo que puede hacer es exclamar "Goddamn, homie!" antes de llegar a la misma conclusión titular que Scarface y Willie.
Los primeros tres versos de "Tricks" proporcionan su carácter, pero su espíritu está en ese verso final. En casi cualquier otra canción de hip-hop jamás grabada, en particular las adyacentes al género "horrorcore", el verso se habría reproducido con el máximo de escalofríos, emociones y derrames, su voz se extendió a dramas de dibujos animados, su producción fue una mezcla de sintetizadores punzantes y bajos zombificados. Pero en la "Mind" es singularmente misteriosa porque se niega a disfrutar de la vistosidad; mientras que ocasionalmente acentúa el efecto, Bill no juega con su hilo por miedo, sino casi por risas, como si estuviera intercambiando historias con amigos en la esquina, como si una historia tan horrible fuera casi normal para el MC. Es su improvisación, monótona, casi una conversacional conversación, lo que Scarface y Willie suenan como los tenores de la ópera que corren a la última fila en comparación con, lo que lo hace inquietante e impensable imaginar que venga de cualquier otro rapero, y mucho menos del mismo Scarface. Quien lo escribió y lo grabó originalmente.
Sin Bushwick Bill, "Tricks" sigue siendo una obra maestra: una maravilla de habilidad técnica y entrega conmovedora; Un marcador totémico en la línea de tiempo de la historia del hip-hop. Pero con eso, se convierte en algo más grande, algo menos cuantificable y mucho más inquebrantable, siendo la diferencia entre una obra de importancia histórica y una que nunca muere. E independientemente de lo que diga el calendario, en octubre de este año, Halloween cae en un fin de semana.