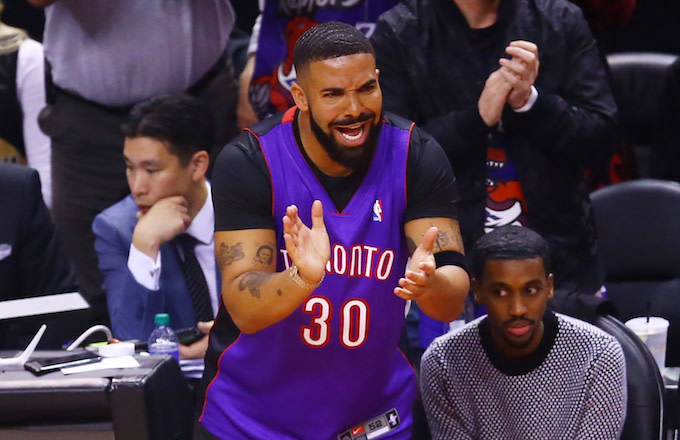 Alguien en el Oracle Arena decidió derrotar a Drake y los Toronto Raptors justo antes del inicio del Juego 3 de las Finales de la NBA al interpretar la canción de Pusha-T "The Story Of Adidon".
Los Golden State Warriors perdieron contra los Toronto Raptors quedando el juego 2-1.
— Complex Sports (@ComplexSports) 6 de junio de 2019
Drake, quien es el embajador mundial de los Raptors, ha sido extremadamente expresivo con su apoyo al equipo canadiense desde su asiento en la cancha. Dicho soporte ha rozado a muchos de manera equivocada. Se dice que la NBA habló con los Raptors sobre cómo lograr que su embajador suavice un poco las cosas. A pesar de la charla informada, definitivamente parece que Drake va a seguir siendo Drake junto a la cancha.
— Complex Sports (@ComplexSports) 31 de mayo de 2019
La estación de radio con base en el Bay Area, KBLX, prohibió la música de Drake durante las Finales de la NBA de 2019, informa
The Mercury News.
La decisión de KBLX es en respuesta al no tan sutil apoyo de Drake a los Toronto Raptors, el último equipo que se interpone en el camino de los Golden State Warriors.
"(Nosotros) no pudimos quedarnos al margen y aceptar que Drake no muestra amor por nuestros Golden State Warriors", dijo Elroy Smith, director de programas y operaciones de KBLX, sobre su propia prohibición. "Es un placer para mí detener y desistir toda la música de Drake en KBLX para apoyar a un equipo que es amado por el Área de la Bahía".
Como si eso no afectara al embajador mundial de los Raptors, Drake, hizo un salvaje troll a Klay Thompson luego de la victoria de su equipo por 123-109 en la carretera.
El rapero publicó una imagen hilarante de un Thompson sin camisa, cuyos ojos estaban vidriosos, mientras se divertía aparentemente en compañía de tres mujeres. "Permanezcan dorados, amigos ... buenas noches", escribió, seguido de varios emojis riendo.
Lo que hace que esto sea aún más divertido es que, luego de la
victoria de los Warriors en el juego 2
, Thompson hablaba de forma picante con Drake.
El escolta, junto con Kevin Durant, no pudo jugar en el juego de la noche anterior, ya que ambos están sufriendo lesiones. El entrenador en jefe Steve Kerr dijo que se espera que Klay, quien sufrió un dolor en el tendón de la corva, regrese en el juego del viernes (7 de junio).
En otras noticias Kyle Lowry no estaba contento con un fanático demasiado entusiasta durante la victoria de los Raptors por 123-109 sobre los Warriors la noche anterior.
A los pocos minutos del cuarto período, el armador persiguió una pelota suelta cuando se dirigía fuera de los límites. Después de un intento fallido de mantener la bola en juego, se estrelló contra los aficionados que estaban sentados en la cancha. Un hombre, en particular, se encargó de empujar a Lowry, lo que llevó a este último a dirigirse a él.
— ESPN (@espn) 6 de junio de 2019
Como resultado, el fanático ha sido identificado como Mark Stevens, quien es un capitalista de riesgo y propietario parcial de los Warriors, según Axios. Stevens se unió al equipo de propietarios de los Warriors en 2013.
Informes de ESPN, aunque Stevens fue expulsado y escoltado fuera del edificio después del incidente, Lowry espera que la liga tenga un castigo a largo plazo en orden. "No hay lugar para eso", dijo en una entrevista posterior al juego. "No tenía ninguna razón para tocarme. No tenía ninguna razón para llegar a más de dos asientos y luego decirme algo vulgar. No hay lugar para gente así en nuestra liga. Esperemos que nunca vuelva a un partido de la NBA".
Tras los alegatos se informa que Stevens no asistirá a los juegos restantes de las Finales de la NBA después del Juego 3.
The man who shoved Kyle Lowry hard in the shoulder after Lowry fell into the stands last night? Mark Stevens, one of the Warriors' minority owners. Here's Golden State's statement on the incident - the team says Stevens won't be at any more Finals games this year.

pic.twitter.com/eUHNKn3Yp7

— Rachel Nichols (@Rachel__Nichols) 6 de junio de 2019
LeBron James se indignó después de ver las imágenes, exigiendo que se hiciera más para proteger a los jugadores.
Ok cool but still ain't enough! They did exactly what they had to do. Get in front of it before anyone else and plus there's only 4 games left(2 max in GS).

— LeBron James (@KingJames) 6 de junio de 2019
Stevens está emitiendo una disculpa pública y donará a Lowry Love Foundation.
The word I'm getting: Warriors part-owner Mark Stevens, who shoved Kyle Lowry last night, will be making a public apology and providing a donation to Kyle's "Lowry Love Foundation."

But, that said, Stevens has yet to reach out to Lowry in the aftermath of the incident.

— Arash Madani (@ArashMadani) 6 de junio de 2019