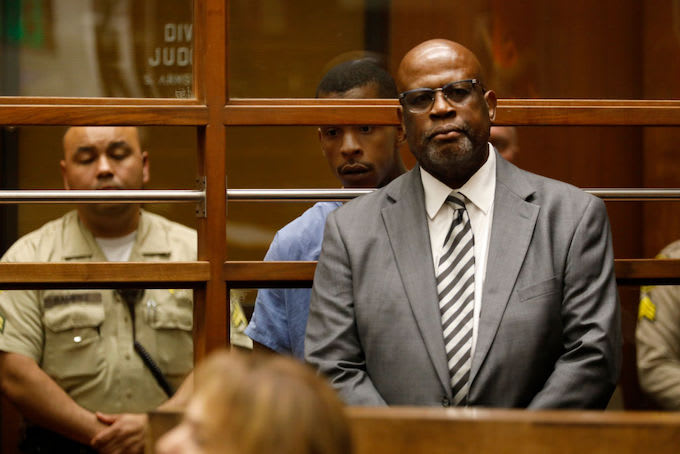 Chris Darden, un abogado ampliamente conocido por ser uno de los fiscales durante el año 1995 del caso que sacudió al mundo con O.J. Simpson acordó representar a Eric Holder, el hombre de 29 años acusado de disparar fatalmente al rapero y filántropo Nipsey Hussle. La supuesta participación de Holder en el asesinato de un miembro tan querido de la comunidad del hip-hop garantiza la publicidad de la corte por su cuenta; sin embargo, con Chris Darden representando al acusado, es probable que el juicio sea muy analizado.
Durante una audiencia de acusación el jueves, Darden se declaró inocente en nombre de su cliente por cargos de asesinato, intento de asesinato y posesión de un arma de fuego por parte de un delincuente. Cuando el juez fijó la fianza de Holder en $ 5 millones, el acusado inspeccionó nerviosamente la sala del tribunal mientras se llevaba a cabo el juicio altamente publicitado.
Meek Mill se lanzó a Twitter el viernes para condenar la decisión de Darden de representar a Holder, una medida a la que se refirió como representante del "auto odio" dentro de "la comunidad negra".
El rapero publicó una captura de pantalla de un artículo de noticias que informa sobre la representación legal de Darden a Holder con la leyenda: "A medida que el auto odio continúa en la comunidad negra #housenigga". Meek siguió con un tweet que decía: "¡Estamos en guerra con el sistema y las calles! #Forevernip".
— Meek Mill (@MeekMill) 5 de abril de 2019
We at war with the system and the streets!!!

#forevernip

— Meek Mill (@MeekMill) 5 de abril de 2019
Como señaló el
Washington Post
, la relación con el caso de O.J. Simpson estaba "cargado de connotaciones raciales", lo que llevó a numerosos individuos dentro de la comunidad negra a etiquetar a Darden como "traidor de razas" por procesar a un hombre negro tan exitoso. Otros culparon a Darden por lo infame que la evidencia de probarse el guante, que a menudo se cita como la base para la absolución de Simpson. En el contexto del juicio de Eric Holder, muchas personas en Twitter se apresuraron a señalar los patrones que Darden ha expuesto con sus casos.
Wait. HOLLUP. Chris Darden, the man who prosecuted O.J. is representing Eric Holder, the man charged with killing Nipsey Hussle.

I know everyone deserves a lawyer, but COME ON.

pic.twitter.com/xSdM7PblTA

— Britni Danielle (@BritniDWrites) 4 de abril de 2019
Seeing a Black Attorney (Chris Darden) defend a black man (Eric Holder) that killed a Black King 👑 (Nipsey Hussle) in cold blood, is demoralizing. 😔

— Reggie Bush (@ReggieBush) 5 de abril de 2019
Chris Darden's relationship with Black America is just... like... 🤦🏾‍♂️

— Mark Anthony Green (@Mark_A_Green) 4 de abril de 2019