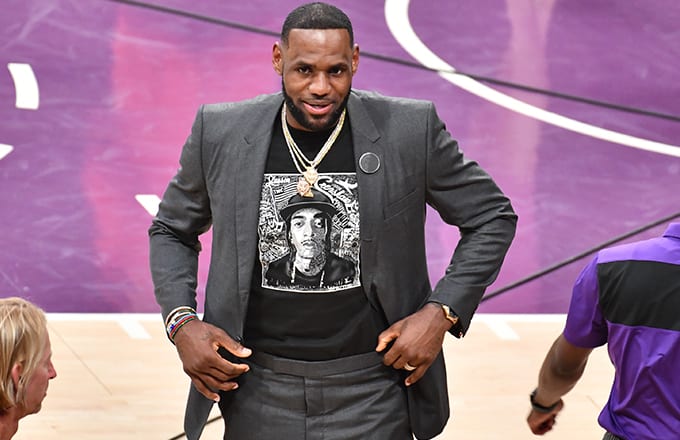 El año pasado,
Space Jam 2
fue oficialmente iluminado con LeBron James como protagonista en lugar de Michael Jordan. Desde entonces, LeBron ha confirmado que el rodaje comenzaría en algún momento de este año. Todo parecía estar a la altura de la tan esperada comedia de basektball, e incluso se anunció que LeBron tendría una cancha de baloncesto construida en el set para que pudiera entrenar entre la filmación. Sin embargo, el reportero de la NBA ,Brian Windhorst, ha indicado que ha habido un poco de problemas a la hora de involucrar a otras estrellas de la NBA.
"Ha estado reclutando jugadores para venir e intentar estar en
Space Jam
con él este verano, y no ha podido cerrar algunos de esos acuerdos", dijo Windhorst en
The Jump
de ESPN. "Algunos de los mejores jugadores a los que quiere ver con él para hacer la película".
According to Brian Windhorst, LeBron James is having trouble convincing players to join him in Space Jam 2 👀

pic.twitter.com/WUrJcoeSy7

— Chris Montano (@gswchris) 4 de abril de 2019
No citó ninguna razón para que las estrellas de la NBA no aprovecharan la oportunidad de aparecer, pero sí pensó que podría tener algo que ver con que LeBron robara todo el foco de atención. "Me pusiste en la película en la que eres la estrella, yo voy a serlo", especuló Windhorst en tono de broma.
Space Jam 2
aún está programado para llegar a los cines el 21 de julio de 2021, con Terence Nance listo para dirigir. Todavía no se sabe si Bill Murray volverá a interpretar su papel de Bill Murray.