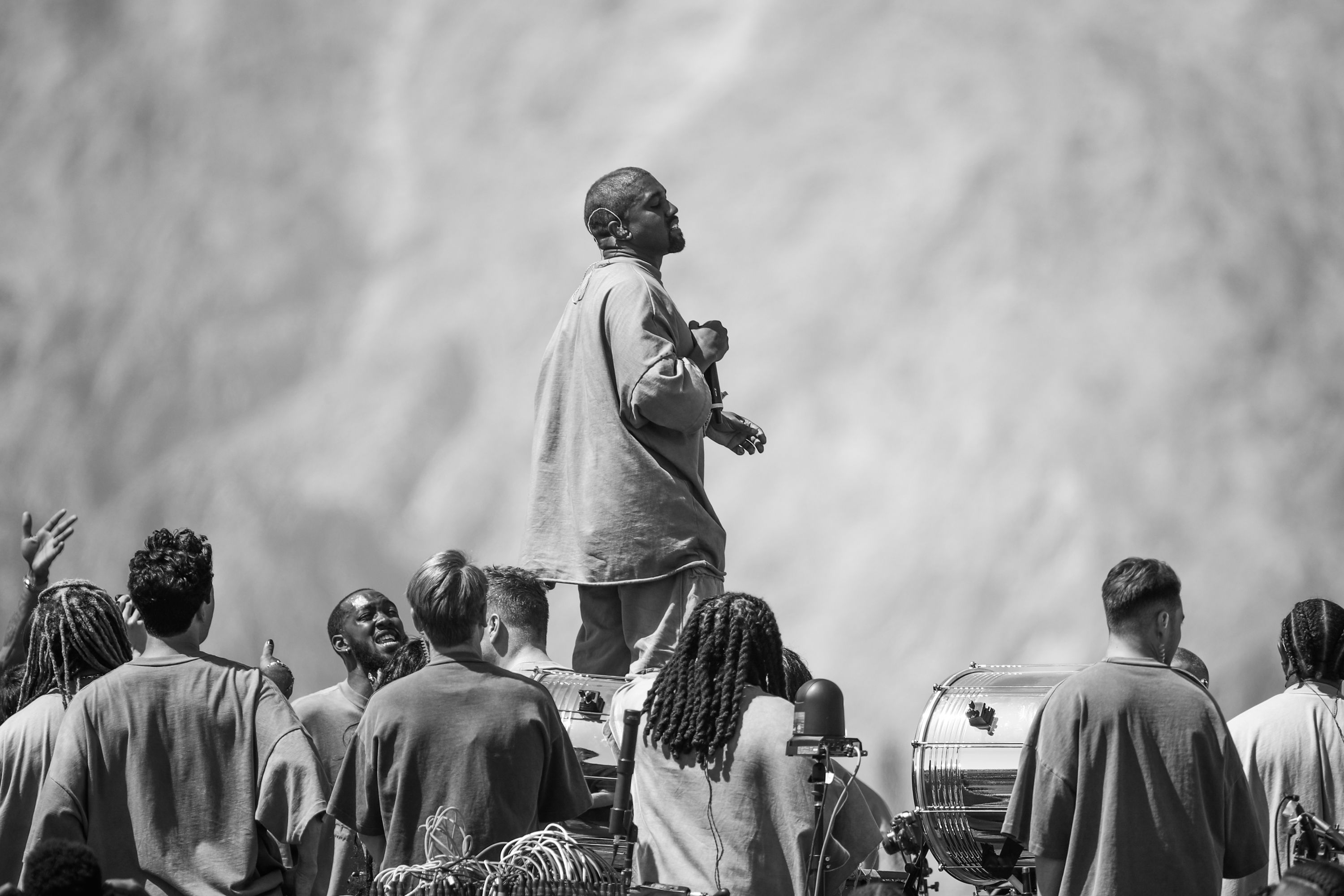 La montaña llegó a Kanye West el domingo por la mañana (21 de abril) del segundo fin de semana de Coachella.
Respaldado por los invitados Chance the Rapper, Teyana Taylor y DMX, West subió a la cima de varias colinas especialmente diseñadas en el sitio del festival en Indio, California, para una versión de gran presupuesto de su Servicio Dominical.
No sería exacto llamarlo un espectáculo, ya que fue más un acontecimiento, el "sueño de Dios" de Kanye cobró vida en el desierto de California. Observado por su esposa Kim Kardashian y sus tres hijos, resultó ser un espectáculo enormemente impresionante, uno que sufrió por problemas técnicos y descuidos en la ejecución, pero que fue superado por los aumentos trascendentales de energía impulsada por el gospel.
Comenzó con un comienzo en falso, con el coro tomando solemnemente sus posiciones en la cima de la montaña. Los problemas técnicos significaron que regresaron de donde vinieron poco después, dejando que la banda tocara las suaves versiones de Kool and the Gang and Gap Band antes de pasar por todo el proceso nuevamente. En ese momento, tenías que preguntarte si los miles de asistentes estaban siendo atacados.
Con el tiempo, el reinicio condujo a versiones sublimes de "Father Stretch My Hands Pt. 1 "y extractos acortados de" POWER "," As "de Stevie Wonder y" Back to Life "de Soul II Soul, todos con un toque adicional del coro y el sistema de sonido pulverizado que incluso contó con altavoces integrados en el césped.
Un grupo satélite de cantantes y bailarines se movió alrededor de la multitud observando las montañas circundantes, y en un momento dado, West bajó a bailar alegremente con ellos y causó un escándalo menor. Fue un alto de energía extraordinario que pareció abrumar a algunos miembros del coro y crear un momento que coincidió genuinamente con la anticipación. Poco después, West hizo lo posible por debutar con "Water". La pista minimalista y con un sonido fantasmal se siente sin terminar, pero está claramente inmersa en la tradición del gospel que el Servicio Dominical está encarnando.
— jay (@jescutler) 21 de abril de 2019
Con Chance the Rapper en la casa, todos sabían que era solo una cuestión de tiempo antes de que él ayudara a disparar "Ultralight Beam" a través de la multitud, mientras que la oración final de DMX se entregó con tanta emoción y entusiasmo que redujo a West a las lágrimas. Solo con estos dos momentos, el Servicio del domingo probablemente hizo más para vender las recompensas de la espiritualidad a los fanáticos reunidos que un año de estudios bíblicos.
— Def Jam Recordings (@defjam) 21 de abril de 2019