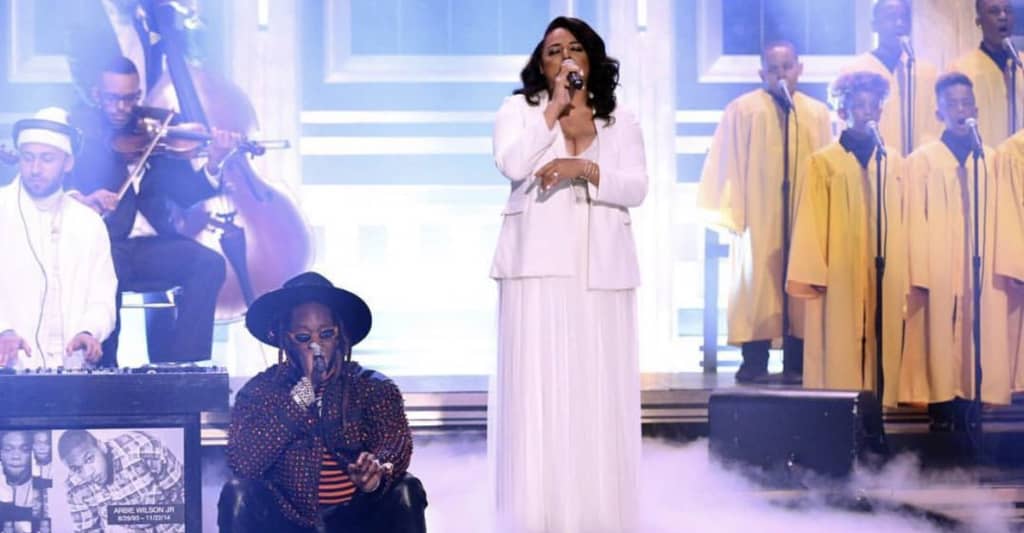 2 Chainz se unió a la cantante inglesa Marsha Ambrosius para una presentación cautivadora de su nuevo single, "Forgiven", el jueves por la noche (28 de febrero) en el Tonight Show.
Con una deslumbrante chaqueta escarlata deslumbrante, un gran sombrero de fieltro y su habitual elogio de ice alrededor de su cuello y en sus dedos, 2 Chainz salió del set a través de una neblina de niebla después de una introducción con el evangelio del ex miembro de Floetry Ambrosius. Con el respaldo de un coro de niños de ocho miembros, así como de una banda con un violonchelo, batería, arpa, violín, teclista y DJ, Ambrosius preparó el escenario para la dramática entrada del nativo de Georgia para la carrera a través de la introspectiva canción de su recién estrenado Quinto álbum de estudio,
Rap o Go to the League
.
"As a parent, it's apparent, ain't no parents/ Seeing stops once we leave the carriage/ Cold of the streets react with the heat to create balance/ One of the biggest revenge is prayer,"
, dijo Chainz en el segundo verso. De la canción que narra las luchas de su infancia.
"Prayer for our sins/ Prayer for our souls/ The tears that you're cryin'/ Just let them all be forgiven,"
cantó Ambrosius, entrando en una ópera ad lib hacia el final de la canción.
Mira la Presentación a continuación: