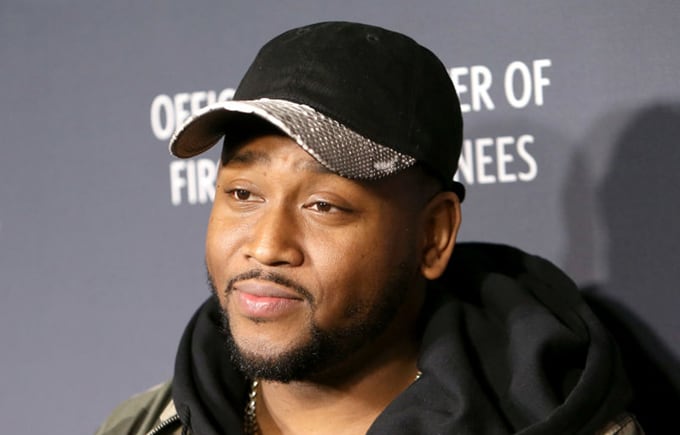 Boi-1da se considera a sí mismo como un compañero de algunos de los músicos más grandes, desde Drake a Rihanna, y ahora está siendo empujado hacia el centro de atención de Grammy por su destacado trabajo de producción.
El productor nacido en Jamaica y criado en Toronto está nominado para seis premios Grammy, incluidos tres en la categoría de mejor canción de rap, gracias a su trabajo en el "God's Plan" de Drake, "Lucky You" de Eminem y "Win" de Jay Rock,grabación del año y otro para el productor no clásico del año, donde compite contra Pharrell Williams, Kanye West, Linda Perry y Larry Klein.
En la última década, Boi-1da ha obtenido 14 nominaciones a los Grammy de una serie de éxitos como "Best Black Ever" y "0 to 100/The Catch Up" de Drake, "The Blacker The Berry" de Kendrick Lamar y "Work" de Rihanna. También trabajó junto a Beyonce, Jay Z, Travis Scott, G-Eazy y Cardi B.
El jugador de 32 años habló recientemente con
The Associated Press
mientras estaba sentado junto a la piscina en una casa de $ 20 millones con vista a Los Ángeles. Habló sobre competir consigo mismo, si merece ganar el productor del año y si alguna vez ha escrito letras para Drake.
¿De dónde viene el nombre Boi-1da?
Me dieron el nombre mientras estaba sentado en la escuela secundaria con un grupo de mis amigos. Teníamos un grupo de rap, pero realmente no quería rapear. Me gustan mucho los cómics. Me gusta batman así que ya sabes que Robin se llama Boy Wonder. Él es el compañero de Batman. Como productor, eres el compañero del artista.
¿Así que realmente has abrazado ser un compañero?
Sí, definitivamente. Como productor, muchas veces no es tu visión. Tienes que sentarte con un artista y ejecutar su visión. Tienes que crear el lienzo para que pinten la imagen.
¿Cómo se siente tener tres canciones diferentes nominadas en la misma categoría?
Es una locura. Ese tipo de cosas solo se mantiene en mi propio camino cada vez. (Risas). Pero es un honor. Cuando lo vi, no lo podía creer. Es increíble. Es una gran sensación.
Te enfrentarás a Kanye y Pharrell para el productor del año. ¿Sientes que mereces más el premio ya que trabajaste en éxitos más recientes?
Kanye y Pharrell realmente me influenciaron para hacer música. Son las razones por las que hago música. Estoy feliz de ser mencionado entre estos grandes productores. Me halaga.
¿Sientes que estás en el mismo nivel que ellos?
Personalmente, no me siento como si lo fuera. Siento que tengo mucho más que demostrar. Aunque he estado haciendo esto durante 10 años con éxito, hay mucho más que hacer antes de que me considere con ellos. ... En mi mente, todavía no estoy allí. Estoy tratando de ser como alguien como Dr. Dre o alguien como Pharrell. Esos tipos han tenido momentos en el tiempo con su música y lo han tomado durante décadas. Todavía me esfuerzo por ser tan grandes como esos tipos.
¿Crees que puedes ganarte a Linda Perry en un año en que las mujeres dominan los Grammy después del drama del año pasado?
No estoy seguro. Depende de quien decide quién gana. Linda Perry es increíble y muy sólida. ... Ella es una gran productora. Siento que todos los que están nominados en la categoría merecen el premio, así que no puedo poner el hecho de que ella es una mujer en contra de nada. Ella es genial
¿Crees que este es el año para que las mujeres ganen en grande?
Definitivamente siento que este es el año de la mujer. Muchas mujeres están haciendo grandes cosas. Estoy realmente feliz de que finalmente muchas de ellas estén recibiendo el reconocimiento. La industria del entretenimiento está tan dominada por los hombres. Pero las mujeres realmente hacen mucho.
¿Cómo ha sido trabajar con Drake?
El es mi hermano,lo conozco desde que tenía 17 años. A veces, me da ideas. Es como un productor. Resolvemos las cosas juntos. El proceso siempre es genial. Siempre confío cuando las cosas están en sus manos.
¿Qué has aprendido de él?
He aprendido demasiado. Pero una de las cosas más importantes que aprendí de Drake es que menos es más. Especialmente con el proceso creativo. Es una bendición de Dios.
¿Has escrito alguna de las letras de Drake?
Nunca he ayudado a Drake. Es uno de los mejores escritores de todos los tiempos. ¿Escuchas una canción como "Fear" y crees que ese tipo no escribió esa canción dinámica? No hay nada más personal que eso.
¿Con quién más estás trabajando?
En este momento, estoy centrado exclusivamente en mi propio proyecto. Estoy lanzando un álbum recopilatorio este año que acabo de comenzar. Es un proyecto genial. No puedo esperar a que todos lo escuchen. Es un montón de cosas drásticas con muchos de tus artistas favoritos. Finalmente tuve la oportunidad de mostrar mi lado creativo de las cosas.
¿Puedes decir quién será presentado en él?
Muchos de los sospechosos habituales.