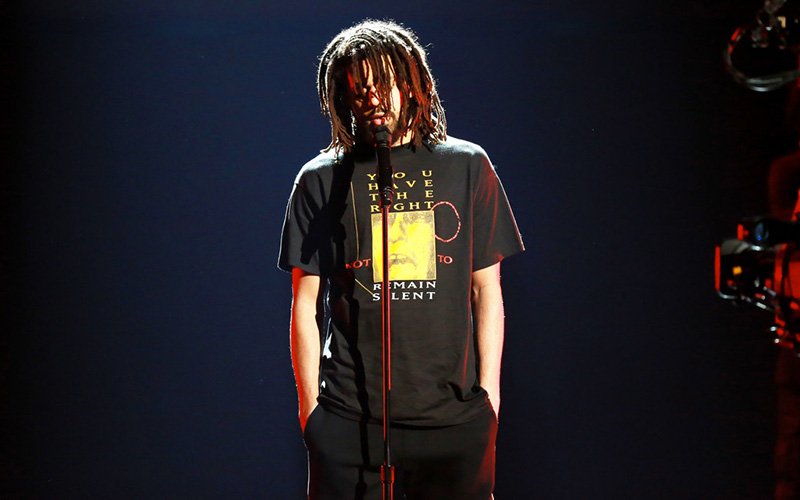 Los BET Awards 2018 aterrizaron en el Microsoft Theatre en Los Ángeles con una serie de actuaciones dinámicas en el escenario para los asistentes, desde los conmovedores mensajes de Meek Mill y J. Cole hasta la actuación "altamente sofisticada" de Janelle Monae y mucho más. A continuación, eche un vistazo a todos los desempeños del BET Awards 2018 clasificados.
11. Migos
Como era de esperar, no había una línea de Soul Train (o Drake) a la vista. El rendimiento de Migos fue relativamente lento ya que los movimientos de baile inferiores del trío no pudieron igualar la energía en auge y el ritmo de su mezcla "Walk It Like I Talk It" y "Stir Fry". Pero Yolanda Adams parecía disfrutar cada parte de "Stir Fry", mientras la cámara veía al cantante de gospel cantando el corte producido por Pharrell.
10. Ella Mai
Incluso con "Boo'd Up", la canción más popular de R&B en USA, que recientemente alcanzó el puesto número 6 en el Billboard Hot 100, Ella Mai fue relegada a la etapa Nissan de los BET Awards, utilizada principalmente para exhibir talentos venideros aprovechó al máximo la oportunidad y le dio a la audiencia la melodía lovey-dovey, mientras su voz suave y rica se derramaba sobre la melodía relajada hasta que comenzaba el descanso comercial.
9. Miguel
La actuación de Miguel de "Come Through and Chill" fue tan soñadora como el traje blanco que usó. Situado frente a una gran pantalla con nubes, el cantante bailaba alrededor del escenario, a menudo se deslizaba en algunos movimientos de baile sutiles antes de bañarse bajo suaves luces azules en la parte superior de escaleras blancas apiladas al final de su actuación.
8. Jay Rock
A Jamie Foxx se le encomendó la organización de los BET Awards 2018 y exaltar a la multitud de principio a fin. Foxx empleó a Jay Rock para comenzar el show con una ardiente actuación de su single principal de
Redemption
, "Win", con bandas de música, toneladas de efectos de fuego y, por supuesto, bailarines presentando la locura dance más reciente de este año, el "Shoot" Dance que fue popularizado por el novato del hip-hop BlocBoy JB.
7. Snoop Dogg
Snoop Dogg lanzó su álbum debut
Doggystyle
hace 25 años, así que qué mejor manera de celebrar su debut intemporal que con su clásico de G-Funk "What's My Name". La siguiente elección de Snoop fue "The Next Episode" de Dr. Dre antes de tomar el BET Awards a la iglesia con algunos recortes de su álbum góspel
Bible of Love
. Sly Pyper acompañó a Snoop en el escenario para su colaboración de
Bible of Love
con "Sunrise" mientras que Tye Tribbett (y Jamie Foxx) ayudaron a Snoop a puntuar su actuación y la ceremonia tocando el pie "You".
6. Nicki Minaj / YG, 2 Chainz, Big Sean
Nicki Minaj dio inicio a su primer gran espectáculo del año con uno de sus dos sencillos de regreso, "Chun-Li", y dio vida al video de inspiración japonesa con la ayuda de sus bailarinas y la intrincada configuración escénica. . Desde allí, Nicki se quitó su brillante bata de látex para lucir su figura curvilínea con un vestido de latex rojo intenso mientras subia la apuesta con la canción "Rich Sex", sin el jefe de Young Money,Lil Wayne.
Minaj pudo tomarse un respiro cuando YG aterrizó en el escenario para interpretar su canción "Big Bank" con 2 Chainz, Big Sean y Minaj. Cada rapero se presentó frente a diferentes escenarios, desde la sala de temática de animal con oros de 2 Chainz hasta Minaj, entregando su verso encima de un caballo rosa similar al que usó en el video musical recién publicado de "Big Bank".

5. Anita Baker Homenaje
Los deberes de alojamiento de Jamie Foxx no se detuvieron en sus chistes o sátiras. Antes de presentar al trío de vocalistas femeninas que más tarde rendirían homenaje a la legendaria Anita Baker, Foxx llevó a la multitud al 2003 para realizar "Slow Jamz". Luego, se sumergió en una mezcla de clásicos perdurables de Baker como "Same Ol Love","Angel" y "Giving You The Best That I Got". Marsha Ambrosius cantó "Caught Up In The Rapture" mientras que Ledisi se metió en "Sweet Love". Sin embargo, lo más destacado del homenaje fue la impresionante voz de Yolanda Adam que impregnaba el Teatro de Microsoft con "You Bring Me Joy", haciendo que Baker se llene de lágrimas y dejando a Quavo de Migos sin palabras, mientras pronunciaba "Wow" durante la presentación de Adams.
4. H.E.R
Envuelto por nubes de humo con luces de color verde azulado y rosa iluminando su escenario, H.E.R. volvió a su EP debut
H.E.R, Vol 1
. por su éxito "Focus". La melodía minimalista le dio a la cantante emergente el espacio suficiente para flexionar su voz cálida y plateada que más tarde se transformó en carreras vocales. Ella hizo la transición a "Best Part" y se le unió Daniel Caesar, cuyo canto celestial envolvió la voz de H.E.R con facilidad.
— H.E.R. (@HERMusicx) 25 de junio de 2018
3. Janelle Monae
Janelle Monae cerró los BET Awards con una actuación abrasadora de su poderosa canción "Django Jane" y flexionó sus movimientos mientras escupía,
"Yeah, this is my palace, champagne in my chalice/I got it all covered like a wedding band/ Wonderland, so my alias is Alice/ We gon' start a motherfuckin' pussy riot."
— Scene Cut 🎬 (@SCENECUT) 25 de junio de 2018
La actuación estaba goteando en magia negra, ya que Monae estaba rodeada por un ejército de bailarinas negras que mantenían los niveles de energía en su punto más alto. como Monae cerró su conjunto con "I Like It".
2. Meek Mill
Meek Mill debutó su nueva y poderosa canción "Stay Woke" con Miguel en una sudadera con capucha oscura con un retrato del rapero caído XXXTentacion y Jimmy Wopo pegados en la parte delantera y trasera. La actuación dramática puso de relieve algunos de los problemas que plagan a la comunidad negra, incluida la violencia callejera y la brutalidad policial, mientras golpeaba: "¿Cómo puedo jurar lealtad a la bandera cuando matan a todos nuestros hijos, a todos nuestros padres?"
— APEX (27 June 🎂) (@APEXworld_) 25 de junio de 2018
1. J. Cole
En lugar de optar por los cortes sobresalientes como "Motiv8" o "ATM" de su último álbum
KOD
, Cole alcanzó la canción "Friends" con su cautivadora actuación, con cameos de Wale y Daniel Caesar que manejaron el coro. Situado en un escenario oscuro con luces rojas mirando desde la parte lateral, Cole golpeó con vigor e ira mientras tocaba temas desde el abuso de sustancias hasta la brutalidad policial.
Hacia el final de la presentación, las luces del escenario se iluminaron para revelar una falange de niños meditando en el piso antes de lanzarse a un número
— ™Biggy_©♠ (@EdwinMoreki) 25 de junio de 2018