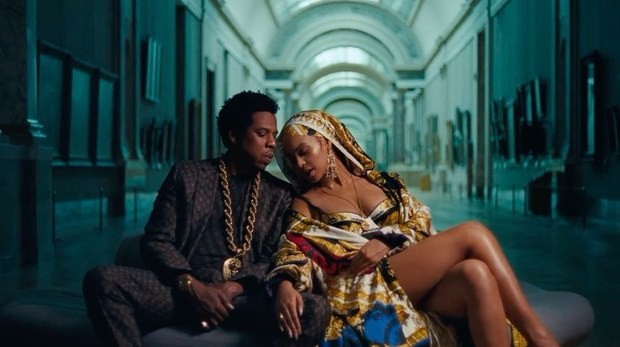 Everything Is Lov
e, el álbum colaborativo sorpresa de Beyoncé y JAY-Z, llegó a Internet el sábado por la noche como un maremoto. Esa puede ser una metáfora desafortunada dado el servicio de transmisión en el cual el álbum fue lanzado exclusivamente. ¿Pero cómo describir un álbum que ahogó todo a su paso, ambientado (al menos en parte) en la playa?.
"Let's make love in the summertime, yeah/ On the sands, beach sands, make plans/ To be in each other's arms, yeah,", canta Beyoncé, lenta y suavemente, sobre una sensual melodía caribeña en la canción de apertura del álbum, "SUMMER". Cuando JAY-Z presume más tarde en la canción que trajo su propia arena, es difícil no recordar el video "Drunk in Love" de la pareja, en el que Beyoncé se pavoneaba alrededor de la costa, colocando un trofeo sobre su cabeza.
Un tipo similar de grandilocuencia rodea la ocasión del lanzamiento del nuevo álbum. O la falta de ocasión. En la tradición de los dos álbumes anteriores de Beyoncé,
Everything Is Love
apareció aparentemente de la nada, sin la debida advertencia, en una tarde de verano a mediados de junio, en vísperas del Día del Padre. Instantáneamente, se convirtió en una ocasión. Se puede sentir como si un álbum sorpresa mundial como este naciera de las interacciones gravitacionales entre el Sol, la Luna y la Tierra, después de todo, si alguien está sublimemente en contacto con el universo, es Beyoncé. Pero estas cosas están meticulosamente planificadas; los Carter, como se están facturando, dirigen los elementos. El momento en que
Everything is Love
señala el deseo de la pareja de dominar durante el verano, ya lleno de publicaciones con un alto perfil, y el predominio de la cultura.
Entonces, ¿por qué este álbum ahora? Bueno, la primera pareja de hip-hop está en medio de una gira conjunta, y tiene sentido que usen su escenario compartido para lanzar la música que hicieron juntos, aunque, en realidad, eso solo parece una explicación parcial. El recorrido es de pocas paradas y continuará hasta octubre. Es difícil imaginar que JAY-Z y Beyoncé, tan sagaces y decididos como son, sacarían su tan esperado álbum conjunto en la segunda noche de shows consecutivos en Londres solo porque se le dio la gana.
Del mismo modo, no parece coincidencia que la publicación del álbum haya dividido una serie de cinco lanzamientos de G.O.O.D. Music de Kanye West.
Everything Is Love
a la vez anula a un antiguo amigo cercano (West, cuya relación con los Carter ha sido tensada por las disputas de Tidal y la ausencia de la pareja en su boda de 2014 con Kim Kardashian); esto arroja una sombra sobre un ex némesis (Nas, que hizo famoso a JAY-Z y lanzó su primer álbum en seis años,
Nasir
, el viernes como parte de la serie); y refuerza su estatus, o al menos el estado de Beyoncé, como verdadero lanzamiento de nivel de evento musical
OTRII.
En la canción final de
Everything Is Love
, "LOVEHAPPY", JAY-Z y Beyoncé intercambian versos: "Move the whole family West, but it's whatever/ Hova, Beysus, watch the thrones." La línea es una flecha que cumple dos funciones: perforación a Kanye West, antiguo compañero del trono de Hov, y señalando el camino de los Carter hacia arriba. En medio de las melodías plumosas del álbum hay una postura despiadada.
Eso es cierto incluso con el método de entrega del álbum: al publicar el disco solo en el servicio de transmisión Tidal de JAY-Z, los no suscriptores pueden pagar para descargar el álbum de la tienda de Tidal, ya que no está disponible en iTunes: Bey y Jay están forzando a los oyentes para cumplir con sus términos, para encontrarse con ellos en su territorio. (Como Beyoncé pone en "NICE": "My success can't be quantified/ If I gave two fucks about streaming numbers, would've put Lemonade up on Spotify.")
Escuchar
Everything is Love
puede parecer una ventana a la relación de una pareja casi real. "SUMMER" termina siendo un raro momento de intimidad sensual apenas reprimido en un álbum lleno de versos que encuentran a la pareja pregonando su propia majestad y legado. En "713", JAY-Z rapea, "Apellido permaneció aquí para siempre, ahora flotaremos como plumas" y, más tarde, "Reina negra, nos rescataste, nos rescataste, nos rescataste".
Además de
Everything Is Love
, el sábado The Carters lanzó una canción que no es parte del álbum llamada "SALUD!" Y un
video musical
para la segunda canción del álbum, "APESHIT". El video fue filmado en el Louvre, y se encuentra a la pareja posando y moviendose majestuosamente, y en frente de, varias obras de arte icónicas. En 2013, JAY-Z hizo una demostración de la confrontación de los espectadores de arte en The Met. En este viaje al museo, él y Beyoncé interactúan con las obras de arte en sí; vistiendo trajes de colores pastel y joyas brillantes, están, por ejemplo, infundiendo color a la Mona Lisa. Varias capturas de pantalla del video podrían, si no lo han hecho ya, convertirse en memes. Y cuando eso suceda, Beyonce y JAY-Z prácticamente se habrán transpuesto a las paredes de la institución, reclamando su lugar en la historia. Son más que una ola.